Wedding Reception
at Loughcrew
Drink's Reception
choose your favourite setting. 
There are a number of quirky rooms and outdoor spaces at Loughcrew in which you can host your drinks reception. Just imagine your guests marvelling at their beautiful surroundings as they happily sip champagne or try elegant cocktails. Don't forget to ensure beautifully prepared canapes are served too, as they will satisfy potentially hungry guests before the wedding breakfast.
We can make the drinks reception a relaxed and fun affair and our team are attentive and kind, so everyone will be looked after while you have your photographs taken.
Plunkett's Bar
Plunkett's bar is located in the original stables of the house and retains many tell-tale features. It has an eclectic mix of decor and furniture and provides a quirky venue for your drinks reception. The location of the bar also enables you and your guests to spill out into the elegant courtyard.
The Courtyard
Loughcrew House features a central courtyard designed by the classical architect Charles Cockerell and is similar to a small Parisian piazza. It serves as an excellent space in which to host your drinks reception, especially when the sun is shining. The courtyard can be customised to suit your wedding theme and offers views of the Loughcrew hills.
The Sitting Room
The sitting room within the main house is the perfect location for a small, intimate wedding drinks reception. It is elegant with French windows which lead onto a private enclosed garden full of flowers and filled with the scent of lavender in the summer. During colder times a stove burns brightly in the middle of the living room which creates a cosy atmosphere, and offers the chance to enjoy the frescoes which adorn the walls and tell the story of Loughcrew.
The Gardens
Choose your favourite spot in the extensive gardens to host your summer wedding reception at Loughcrew. Whether it is in front of the portico, next to the wildflower meadows or beside one of the many other gorgeous features within the grounds, we can help to ensure you and your guests have a relaxed and memorable time.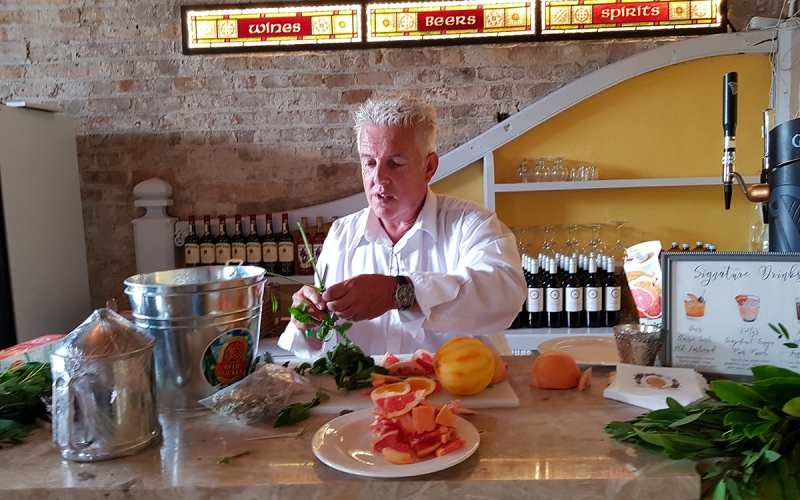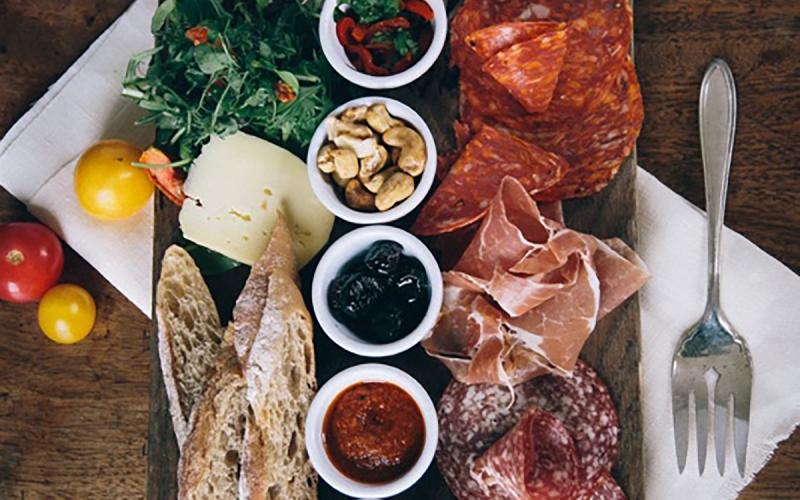 Wedding Breakfast
celebrate with a feast.
It is important to choose a space which you feel best represents you and your partner for the wedding breakfast. After all it will be where all your friends and family will gather together to enjoy a feast and party to celebrate your wedding!
The team here at Loughcrew will help you to choose the best caterers and will be on hand to look after you and your guests on the day. We can also help you by providing or sourcing dining room furniture, tableware and decorations, whatever your style or taste. We have many spaces within the garden that can be used to facilitate your unique dream wedding, so here are a few ideas as to where you could host your wedding feast:
Banqueting Rooms
Once home to liveried horses and carriages the banqueting rooms and adjoining Plunkett's bar are stylishly adorned with gilded mirrors and chandeliers. With their elegant rustic charm, exposed wooden beams, high ceilings and painted brick walls, these rooms lend themselves beautifully to hosting your wedding feast. The banqueting rooms can seat up to 140 guests and the tables can be cleared away to make space for a dance floor.
Al Fresco Dining
A set of French doors from the dining room of the main house open onto an extensive sun-drenched barbecue terrace which is a frequent favourite for Al fresco dining. It is the perfect space for a banquet with a smaller guest list. If the weather is kind, you can also host your wedding reception on the lawn or even in St Oliver Plunkett's church. The courtyard is a fantastic space to host your wedding reception at Loughcrew too. The choice is yours!
A Garden Marquee
If your guest list is more than 140 we can host your wedding reception and after party in a marquee in the grounds. We can cater for up to 250 guests, and we can even accommodate them all here at Loughcrew Estate.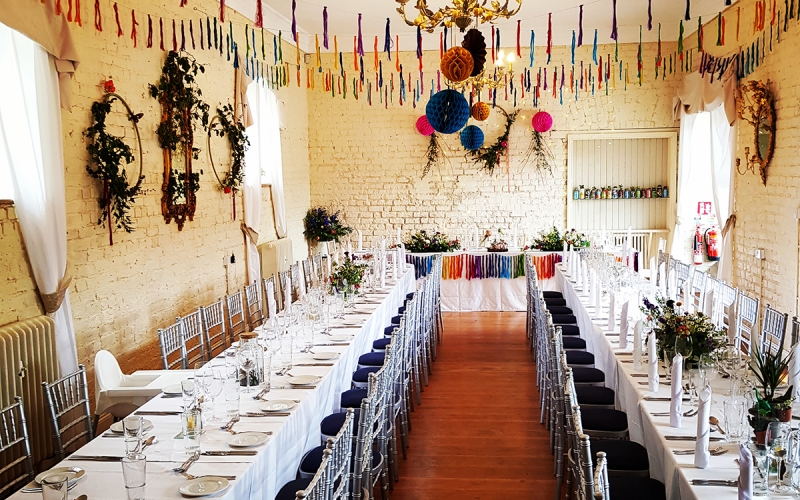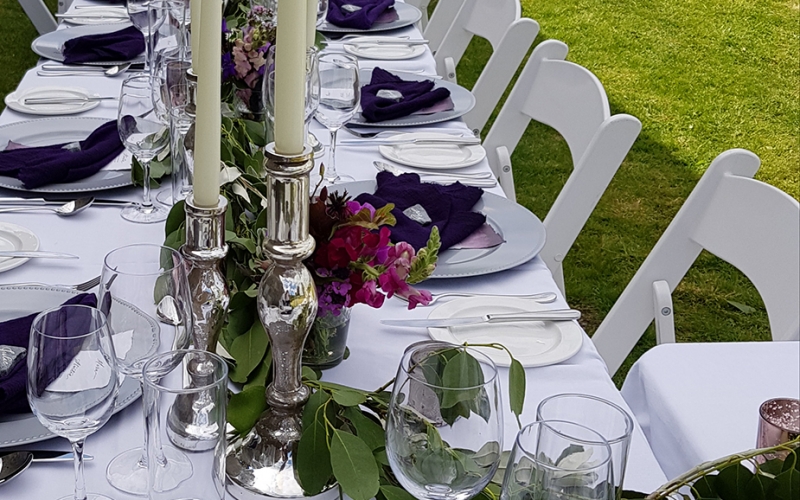 Post Wedding Breakfast Celebrations
plenty of space to party and relax.
There are many spaces you can use to continue your celebrations in style after your wedding reception at Loughcrew. Make use of the gardens, courtyard, Plunkett's bar and the banqueting hall to entertain your guests with a live band and/or DJ.
A warming central fire pit within the courtyard provides a great place for late night chats. Plunkett's bar and the living room within the main house make for a great spot to take a break away from the dancing too. Sink into velvet sofas and enjoy discussing the day's events with your favourite people.
You could also even provide your guests with a late night supper to ensure they are totally satisfied. Sparklers usually go down well with guests too and make for some fantastic photos. Just let us know if you would like any added extras for the evening entertainment. You'll find a few options for caterers in the suppliers directory.