The House and Apartments
A relaxed, alternative wedding venue.
The main house you see at Loughcrew today was sympathetically rebuilt, with the help of architect Alfred Cochrane, out of the shell of the old orangery, azalea houses and furnace rooms. Two striking palm houses, used as an entrance hall and a dining room, bookend either side. It encompasses many charming original 19th century features, as well many stunning aspects which have been added by the present owner. It is not only a celebration space but a treasured family home.
The main house is attached to a Parisian style courtyard. The courtyard buildings, which include guest apartments and reception rooms, boast projecting porches with carved limestone detailing, as well as timber sash windows and slate roofs. It also provides amazing views towards the Loughcrew Hills and a cobbled floor which adds to it's charm.
Loughcrew's House and Gardens, along with several other features dotted throughout the 200 acres of estate grounds and surrounding countryside, form part of an Irish landscape steeped in historical and religious significance.
We pleased to be able to accommodate the happy couple and 25 guests here at Loughcrew. We believe being able to stay in the same place creates an intimate feel to a wedding. This is because there is nothing better than exploring your surroundings and having a good catch up with friends and relations before the big day, and then having time to reminisce the day after.
The accommodation we have available has been designed and decorated by owner Emily Naper herself with comfort and style in mind. Our accommodation options for your stay are as follows:
The Main House – sleeps 17, made up of 4 double rooms, 4 twin rooms and a single.
Each room has a view and there is access to a private garden, tennis court, patio terrace and barbecue. Most of the bedrooms are en suite and each has an individual charm and is filled with light. An exclusive stairway leads up from the entrance hall to the impressive master suite, which boasts: an opulent bedroom complete with an ensuite bathroom, an intimate dressing room, as well as a Palladian style oculus window. Bathrobes are provided in the bridal suite. It really is the perfect bolthole for you and your partner to enjoy quality time together
The Courtyard Apartment – sleeps 5 people made up of 1 double room, 1 twin and 1 single.
The courtyard apartment is a modern space with an open gallery which overlooks the sitting room. It is light and airy thanks to its large windows which overlook the courtyard.
The Stable Lodge – sleeps 6 people made up of 3 double rooms and we have 4 spare beds which can be set up in certain rooms of the house.
Stable lodge has been sympathetically renovated and elegantly decorated to capture old features while adding some modern touches. It has all the modern amenities you could need too.
The Stable Lodge has a garden available for exclusive use.
The Portico Apartment– 2 single beds with room for spare beds if needed.
Yurts can also be put up in the garden to accommodate more guests.
Find out more about Loughcrew Estate and accommodation here. There are toiletries provided in each room created by The Handmade Soap Company. We can also provide fold out beds and travel cots for children and babies. Gifts can also be placed in rooms on request.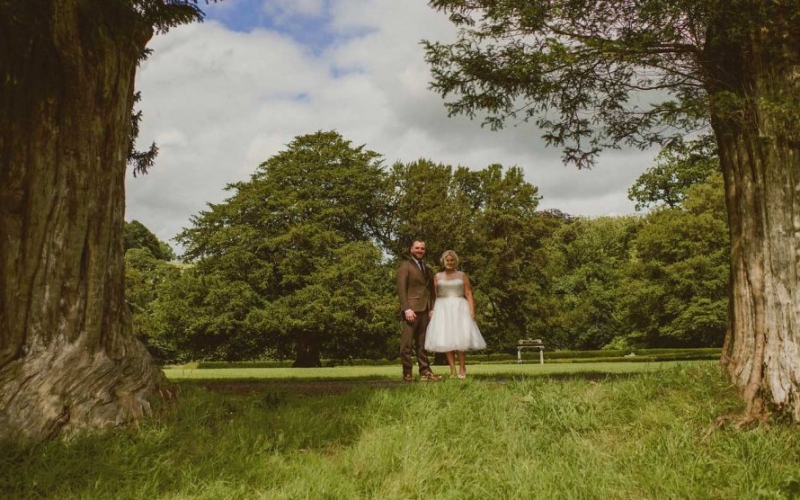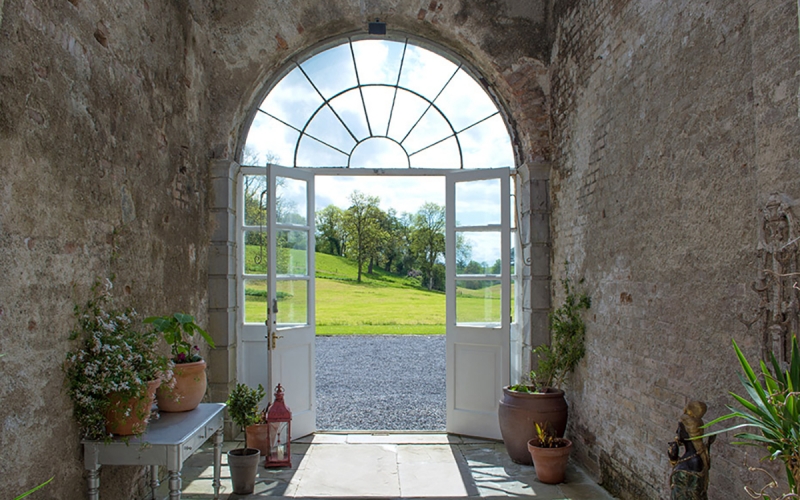 The Gardens
A place of serenity.
The garden within Loughcrew's grounds has a long history. It has been tended by generations of the Naper family since the 1600's and many of it's original features have been restored or reinstated. Today it is made up of a stunning combination of vistas, water and archaeological features and many trees, shrubs and flowers of interest.
Examples of the amazing 17th century features still standing within the garden are a glorious avenue of yew trees and a beautiful walled garden, from which a canal and a parterre have been relocated in replica, can all be seen. The corn mill which dates back to St Oliver Plunkett's childhood sits within the heart of the garden, as well as the church he and his family used. Amazingly foundations of a longhouse and a medieval motte are also still visible.
Within the peaceful grounds of Loughcrew House, extensive lawns and terraces have been created and are encased by herbaceous flower borders. Specimen trees and a lime avenue have also been planted, and wildflower meadows have been established to use as wedding decorations and in bouquets. Symbolic statues and sculptures are also dotted about.
An extended walk past a Victorian rockery, hidden within trees, and gorgeous wildflowers will lead you to the softly framed, reinstated 19th century water gardens. An old Crannog, nearby, with a painted motif inside has also been restored.
The garden really is a remarkable, diverse canvas and the rest of the rolling estate is well-dotted with old trees, and glorious flowers during spring and summer. Altogether it forms a beautiful scene.
The gardens are included on the Boyne Valley Garden Trail list.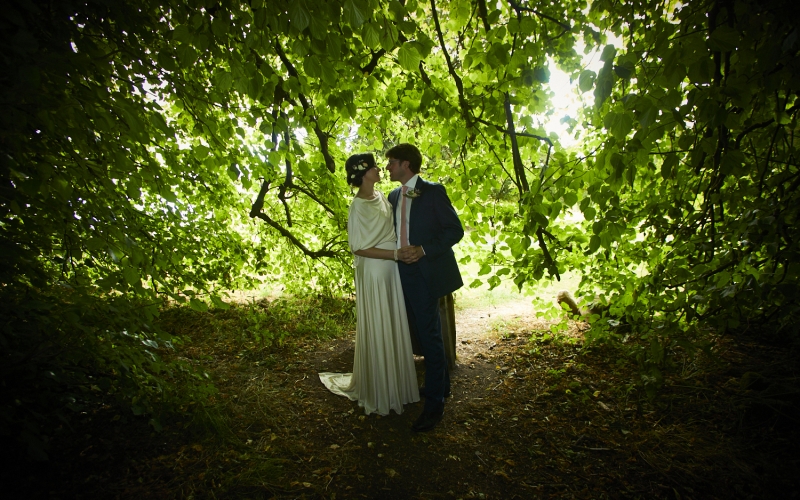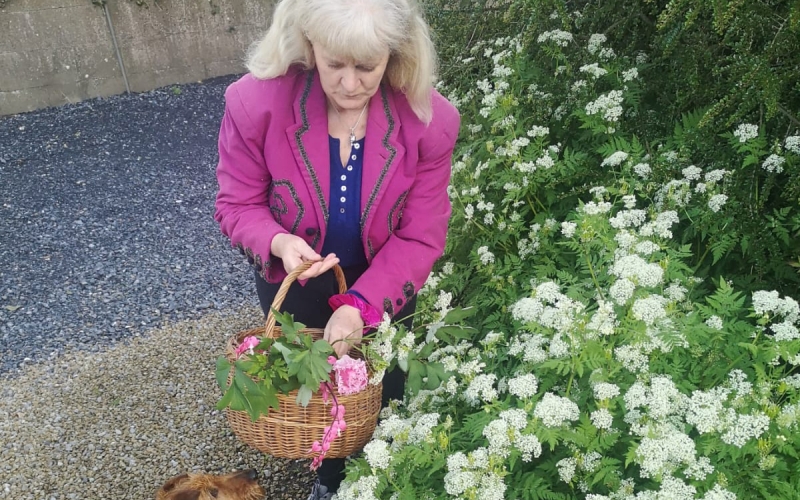 Highlights of Loughcrew Estate
The estate has many features of interest which provide perfect backdrops and spaces for an unforgettable wedding. Your guests will be wowed, photographs will look amazing and you will all be embraced by the warmth and charm of the house and grounds. Learn more about Loughcrew Estate below.
The Portico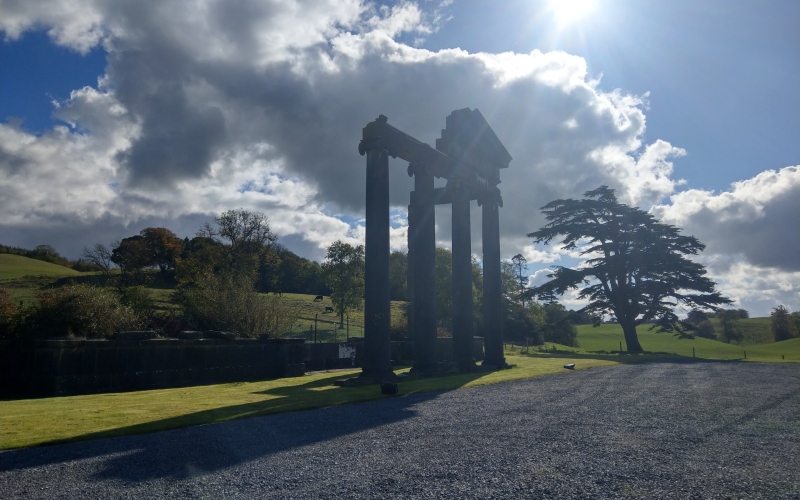 The portico was designed by Charles Cockerell for the entrance of the grand, Greek revival house built in 1821. It has been reassembled to look like a mini-Acropolis by the current owner of Loughcrew.
The Palm House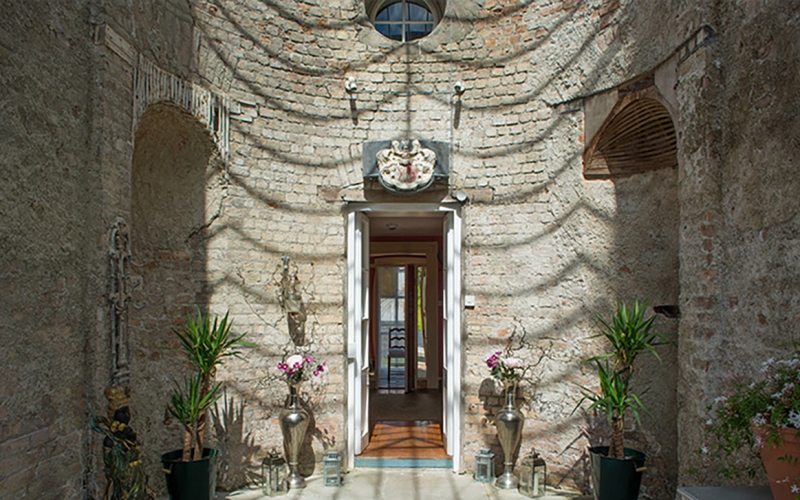 There are two palm houses which bookend the main house. You can get married under the unusual glass ceiling of one of them, while a musician plays from the 'Romeo and Juliet' balcony, then have a post-wedding brunch in the other!
The Lime Tree Avenue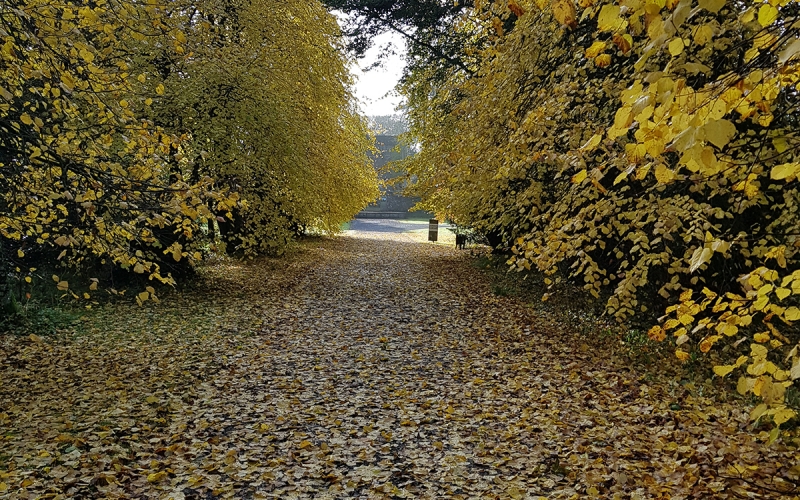 The lime trees create a natural aisle and release a delicious scent. You can have a ceremony immersed in nature under their boughs.
The Yew Avenue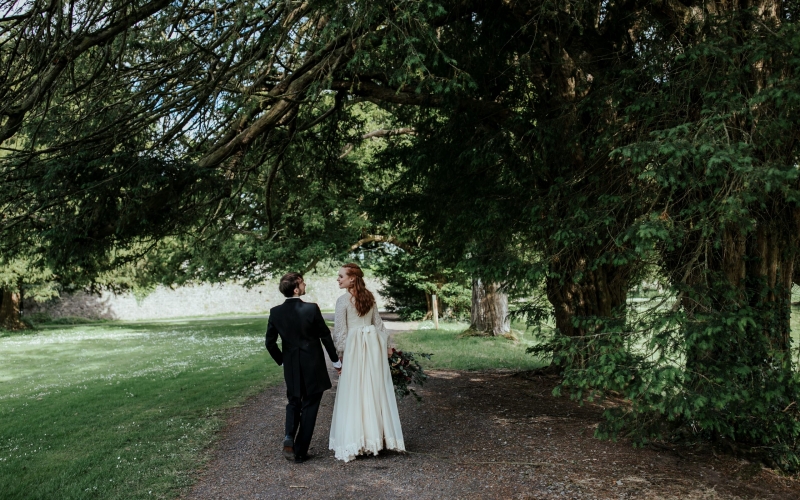 These terrific trees date back to the 1600's at least, when the Plunkett family still lived at Loughcrew.
Wild Flower Gardens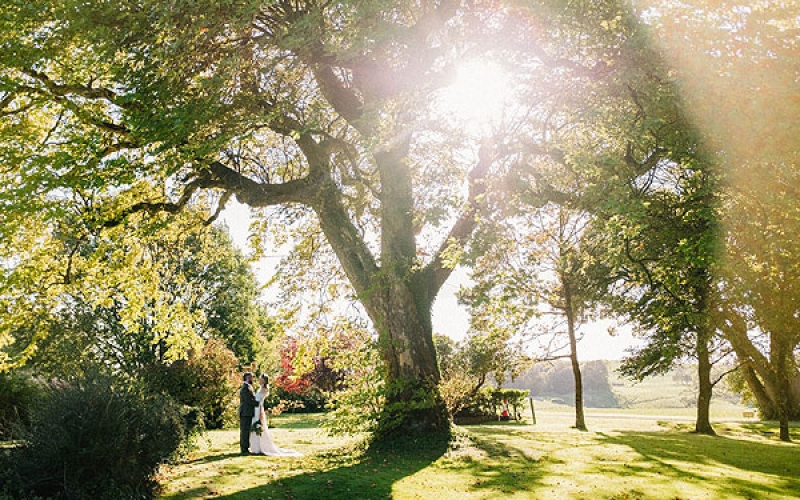 The wildflower meadows have been created by Emily to use as decoration and in bouquets. They provide a stunning backdrop for photographs.
St Oliver Plunkett's Church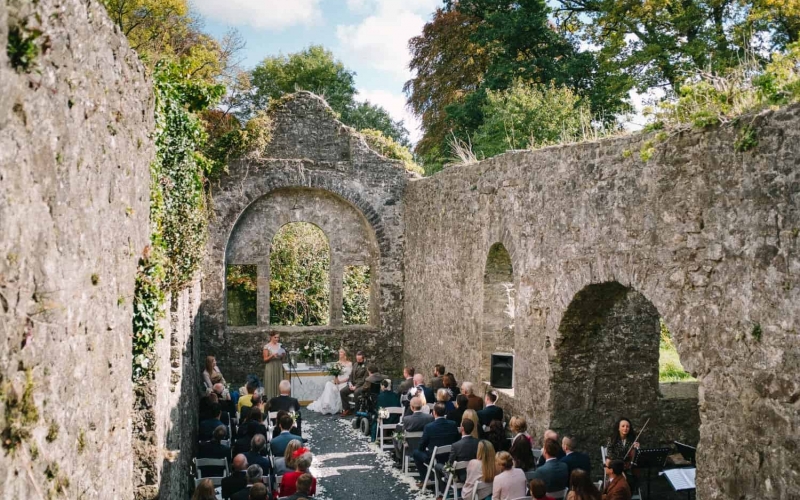 St Oliver Plunkett and his family used to pray in this church. It is therefore a place of spiritual significance and is available for you to hold your ceremony and wedding breakfast in.