Your Day, Unique Like You
Alternative Weddings at Loughcrew Estate
Your Special Day
Our most unique offering for your wedding ceremony is our beautiful church ruin, the family church of St Oliver Plunkett. This provides a stunningly romantic backdrop to your Humanist ceremony, Spiritualist ceremony or civil ceremony – there is nowhere else quite like it! Your guests will be talking about this wedding for years to come if you choose Loughcrew Estate.
Our venue is located around a central Courtyard designed by the classical architect Charles Cockerell which is similar to a small Parisian piazza. Our bar, drinks reception room, wedding banquet hall and accommodation are all located around this courtyard which gives the perfect spot for your guests to sip champagne and take in the Summer sun.
Our large firepit gives the perfect centre point for late night chats and creates a stunning atmosphere after dark. The venue is quirky, inviting and your guests will love the stunning views across the hills of Meath.
"There's a magical spirit in Loughcrew and we honestly don't think we could have found it anywhere else! It's the most idyllic place and it really feels like you're in another world. Apart from the beautiful setting, Deborah, Emily and all of the team are so obliging. If you want a venue with flexibility and where you can really make your mark, we'd highly recommend it!" Hazel + Andy, August 2018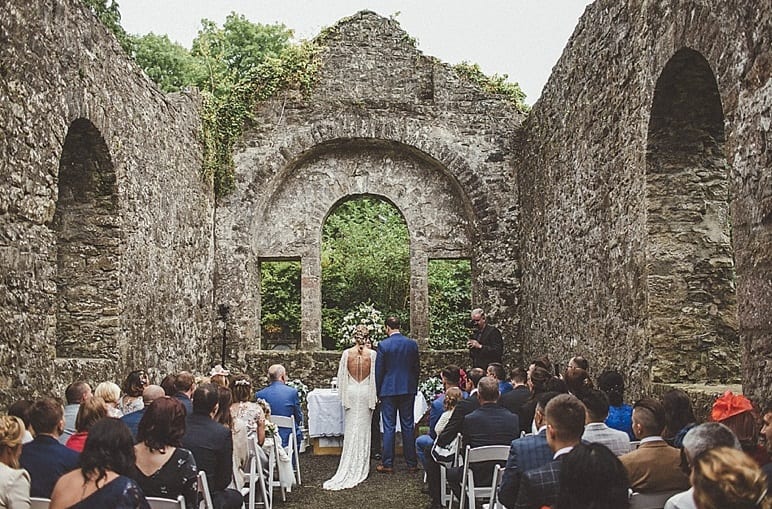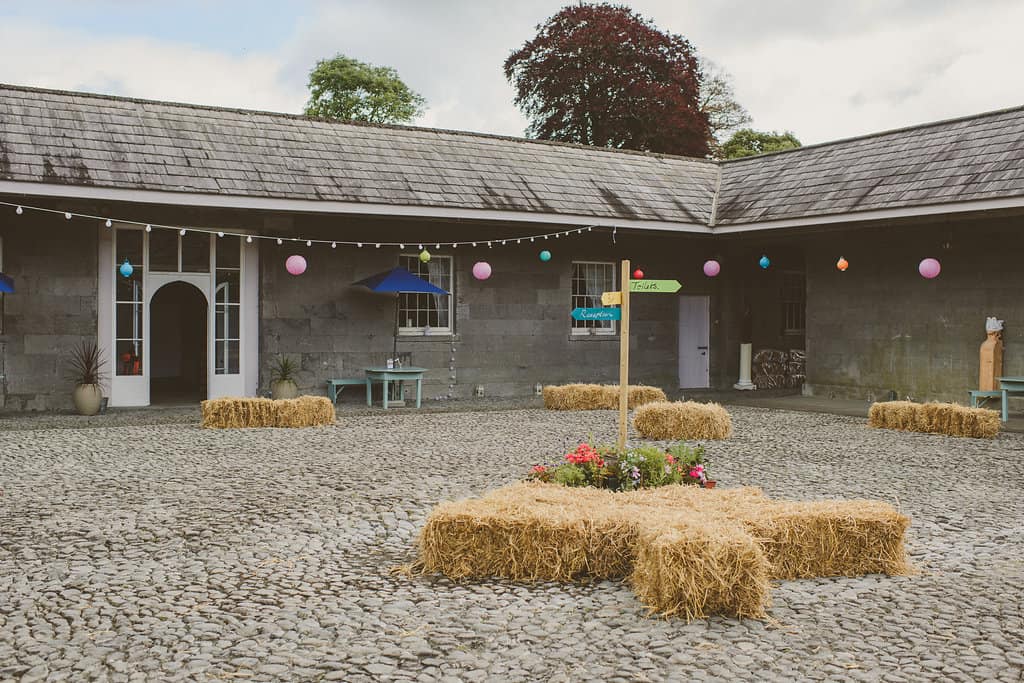 A place apart
A romantic country house venue that is exclusively yours for your wedding weekend. We have eyes only for you and never have more than one wedding party on site.
Banquet Hall
Not your ordinary function room, this beautiful room seats 140 comfortably for dining. The wooden floor can be cleared of furniture by our night porter and provides the perfect dance hall for late night moves.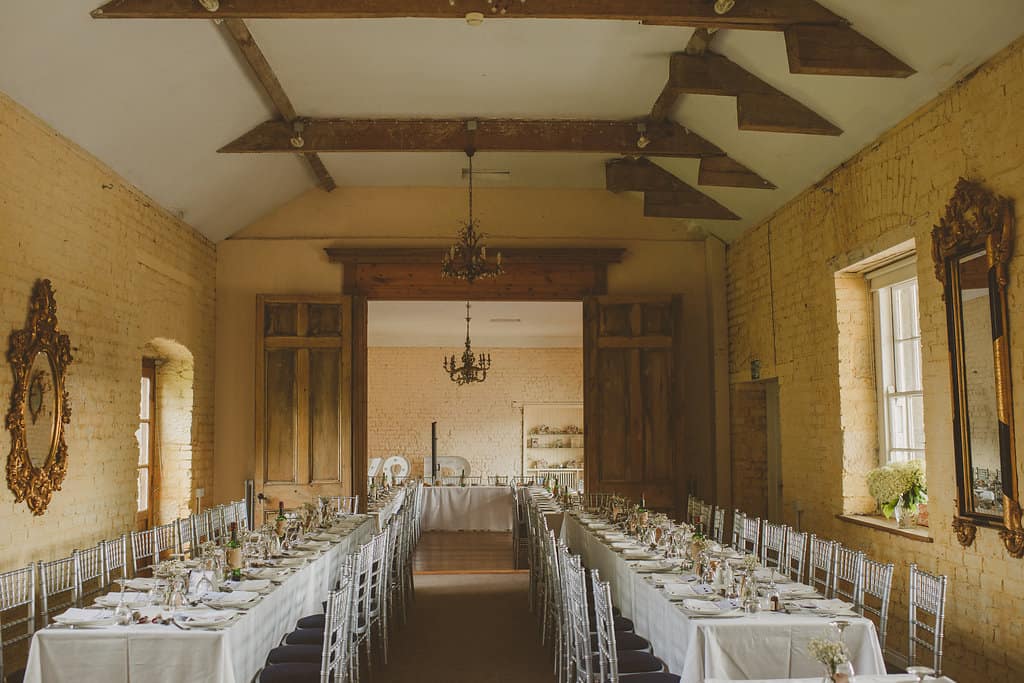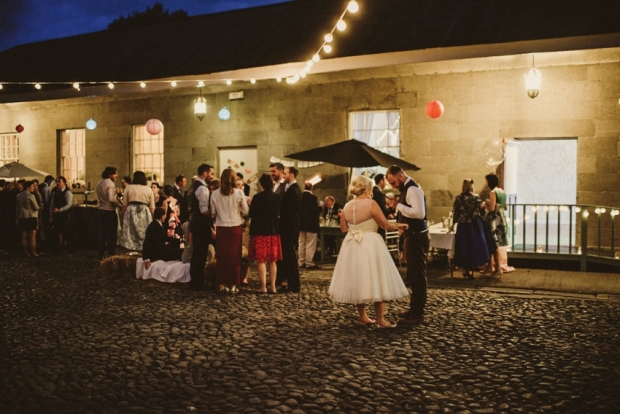 Plunkett's Bar
The perfect spot for getting your G&T fix! Bar options are flexible so please ask us for more information when you visit.
Drinks Reception Room
Host your post-ceremony champagne reception here. Or have it as your chill out area complete with wood burning stove and comfy couches to rest your weary feet after hours of dancing!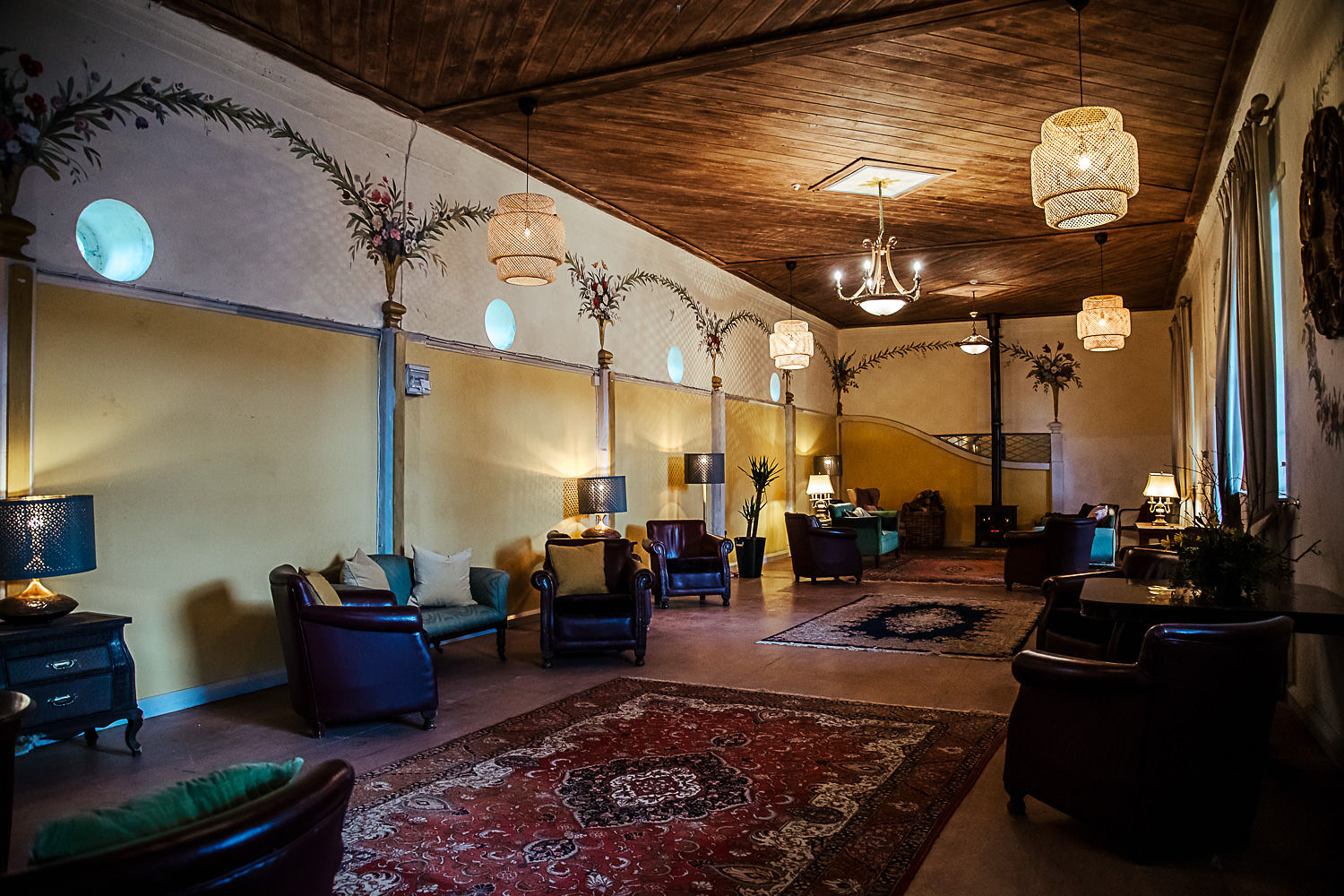 Our Wedding Packages
Loughcrew House Wedding Packages are tailor-made and can cater for anything from small intimate weddings to large marquee weddings. Our wedding package costs vary as each wedding package is customised to suit the needs of each couple.
Our Packages include:
Exclusive use of Loughcrew House and Reception Rooms available to hire for 1, 2 or 3 nights.
Luxury accommodation in Loughcrew House for up to 20 people
Our Banquet Hall seating up to 140 guests for dinner, including tables, chairs, white linens with ample space outside for larger Marquee weddings
The use of Plunkett's Bar & our new drinks Reception rooms, complete with log burning stove
Our Central Courtyard including outdoor seating, parasols & tables
St Oliver Plunkett's Church ruin for your Civil, Humanist or Spiritualist ceremony including white folding chairs & altar
Beautiful indoor ceremony space in the Palm House or Reception Room ideal for smaller, more intimate gatherings and Elopements
Bridal Suite for the happy couple comprising a stunning bedroom, dressing room & bathroom
Dedicated & experienced Wedding Co-Ordinator in the lead-up to and on your Wedding day
Large Firepit with stock of logs with seating such as haybales that can be sourced for you
Top of the range outdoor lighting system in the Courtyard ideal fro setting ambience
Loughcrew Gardens & Historic grounds for your photographs
Overnight secure parking on site
Overnight security
Full public liability insurance
Midday checkout the following day including Breakfast for all on site guests (up to 28)
Fresh flowers from the gardens for the house
Complimentary bottle of Champagne for the Happy Couple
Outdoor patio area for al fresco dining
Use of our fine Tennis Court, with rackets and balls provided
The Loughcrew Team can also arrange any bespoke services or items that you would like to include for Your Day, Your Way – just ask! 
Additional Wedding Services:
We also have additional wedding services and facilities that can be added to your wedding package for the day before or after your wedding day. These include:
Pre-wedding Dinner, Wedding Brunch or an extra meals/catering you would like
Afternoon tea or Drinks Reception for family the day before
Glamping option including Bell Tents can be arranged for quirky guest accommodation
Adventure Centre Activities for some family bonding!
Courtyard accommodation – Sleeps up to 5 persons.
Stable Lodge accommodation – Sleeps up to 6 persons.
A Unique Experience
What people say
We always said to ourselves that we didn't want a cookie cutter hotel wedding. We came across Loughcrew by complete chance and just fell in love. It was everything we wanted, laid back, relaxed and we could put our own stamp on it. Deborah and the team were incredible, super quick to respond and help make our ideas come to life. We loved our wedding weekend, and all of our guests got to experience a unique treasure in the hills of Meath, made even better by all the sunshine of the weekend!

We loved having our wedding at Loughcrew! Not only was Deborah amazing but everyone staffed at Loughcrew that helped us set up was so friendly! We had recently moved from London to the US and had to plan everything from the US so while this was a bit tricky given the time difference, Deborah was amazing at accommodating us! Just in case you need to hear it again, Deborah was amazing! 😛 The venue is a more relaxed and rustic - which is exactly what we were looking for. We had a very casual, backyard BBQ type of wedding. There is a fire pit in the outside courtyard area which was a hit with our guests (it allowed them to gather and talk while still being apart of the dance music inside). The venue had little wooden benches that surrounded the fire pit and was there throughout the wedding for additional seating outside. The bar area was also perfect! It is slightly removed from everything but not too far away that people are taken away from the party. We hired Peter Caffery for the bar - who took care of kegs and glasses but we stocked the rest of the bar - since there is not a corkage charge (which saved our lives in budgeting)! And finally, the reception/dinner area was very romantic and communal. My bridesmaids and I decorated the venue ourselves and while it took the whole day before the wedding - the reception area looked amazing when we were done. It already has a romantic vintage feel to it, so we added flowers and lights and it brought everything to life. We hosted around 120 people and the reception hall was a perfect fit. We also hired John from The Whole Hog to cater our sit down dinner - who was also AMAZING! (I recommend the Lamb, Fish Pie, and the tomato soup). 🙂 Overall while this venue seems a bit more expensive, you get great value for your money. I've had guests come up to me and my mother in law saying that this is the best wedding that they have ever been to - so check it out! 🙂

Loughcrew Estate exceeded my expectations of a venue. Every member of staff I encountered on the day was so friendly, St. Oliver's was such a beautiful setting for a ceremony and the grounds around it were lovely. We had a great day and it was thanks to everyone working at Loughcrew - Thank you! Response from Loughcrew Estate Dear Lorraine, We loved having you here at Loughcrew. We hope that you have treasured memories from Loughcrew

We had our wedding weekend in loughcrew and everything from beginning to end was fantastic. Deborah and the team did everything we wanted without any fuss. They were very accommodating about allowing us access and visits whenever we or our suppliers needed it. Everyone raved about the church and the birdsong during our ceremony. The grounds were perfect for photos and the courtyard was buzzing for our cocktail hour. The beauty of the venue is that you can really put your own stamp on it so we had our own beers in wheelbarrows and a gin bar in the corner. The fire pit was incredibly popular as the night went on and since we have the whole place to ourselves we didn't have to worry about other residents and the noise levels. Our guests loved the fact that when they needed a break from the dancing that they could wander to the lounge area and sit by the stove with a drink and have a relaxing chat. Others loved the camaraderie around the fire pit. More than one person told us it felt like a really personal wedding festival and it was the most unique wedding they'd ever been too. I honestly cannot recommend the venue highly enough or Deborah and the team. They really will do their very best to make sure you have the wedding of your dreams. Thanks again for a weekend we'll never forget! Steph and Ali x Response from Loughcrew Estate We all loved seeing all your creative ideas come to light at Loughcrew. We have such pleasure seeing you all enjoying the venue so much

My daughter wanted a unique wedding in a church ruin and Loughcrew was the ideal venue for that. Guests from New Zealand stayed in Loughcrew House. The reception ran smoothly from the meal in the main room, to outside entertainment in the courtyard, to a Ceili in another room and back to the reception room, which had been cleared for a disco. Deborah was so helpful, as were the other staff. The scenery was perfect for photos. It was an unforgettable day.

'Loughcrew is the perfect place to have your wedding. It's idyllic in every way: the grounds, history, nature. The owners are also very hospitable and are willing to help tailor the venue to your liking. We used all the rooms and our guests, of which there were 17 or so, had no complaints. Being in one house with your friends and loved ones can elevate the whole experience. Additionally, if you appreciated nature you will not be disappointed as the grounds and neighboring area are gorgeous, including the cairns which are right down the road. We hired a wedding planner and he, along with the person Loughcrew provided, made everything super easy. The food from Andrew Holmes catering was also fantastic! If you're willing to put in a little work you can reap big rewards at this magical venue. Just thinking about it now makes me want to go back. I'm very happy I listened to my incredible bride.' ~ Will 'Loughcrew is such a special setting. We're from NYC and never visited St. Oliver Plunkett's Church Ruins or Loughcrew before our wedding week. We visited the cairns on a previous visit, and I felt confident from photographs they listed online and others that I found from sleuthing through the internet. We were taking many gambles and they all paid off! We didn't want to pay extra for a tent, and the weather was crazy at the beginning of the week- strong winds and downpouring. We purchased black umbrellas and had a backup space just in case. Fortunately, the sun came out and everything was perfect! Deborah was integral in this process from day one. She had great recommendations- Brigid from Fernwood Flowers went above & beyond. The Dining hall was so lovely! The bonfire was a big hit. The barman was so great!! We had about 88 people. Loughcrew was laid back and at the same time such a beautiful background to share a very special time with our friends & family members. I felt that Loughcrew was a place that enabled me to connect with the ancient world view of appreciating and enjoying the present moment. I only wish that everyone stayed another day at Loughcrew after the wedding!' ~Crystal 

20th Jun 2019 We gathered at Loughcrew for our daughter's wedding from across the USA. Our week in Ireland will be cherished for a lifetime. The long-term preparations for the wedding with Deborah and the staff of Loughcrew were outstanding. Deborah is personable and a consummate professional. Her recommendations for local vendors were spot on. The photo sessions in the gardens will remain etched deep in our memories. We used an Irish travel company (Cara Travel) to assemble air and coach transportation, housing and a few tour events in Dublin. Our travel agent remarked how easy it was to work through the details with Loughcrew staff. We brought 20 guests including 2 infants. The trip was very affordable for our daughter's young friends. Our overall cost was about the same for a wedding we hosted for our second daughter two years ago in the USA. Our wedding party enjoyed a Murder Mystery Rehearsal Dinner the night before the wedding with a local thespian group out of Oldcastle that intertwined Irish history with local legends. It was both informative and fun. The hospitality of the staff made our guests feel as if we were visiting in a friend's home. A trip to the cairn's near the estate was well worth it! It made for a wonderful morning trip for non-wedding party guests led by the groom. (And it got everyone out of the house while the wedding party prepared!) The house and grounds are spectacular. Loughcrew Estate is truly a destination wedding!

We had a clear enough idea of the kind of wedding we wanted and Loughcrew was the perfect venue for it. The entire venue was gorgeous and the staff were helpful every step of the way. I had planned our big day almost entirely from abroad but Deborah (the venue coordinator) was extremely helpful and I cant praise her enough for all her help. We had just 50 guests and half of them stayed overnight at the venue (each room was well kept and nicely decorated too). They really enjoyed themselves - from the ceremony at the old chapel to dinner and drinks in the courtyard and also the fire pit through the night. Deborah helped organise a big family breakfast the next morning too. It was a perfect day and I was so happy to have chosen this venue! I will be visiting their cafe on my wedding anniversary just to reminisce over that special day.

I can't recommend loughcrew enough. They were great in every way. I'm a wedding florist Bronte bouquets and wanted to do alot of the work myself and loughcrew was the only place that gave you the flexibility to do this. They were very accommodating and allowed me to do what I wanted. There is alot to do when doing a diy wedding but it was definitely worth it. I would do it exactly the same way again. Loughcrew staff were very helpful and made us feel at home. I have 2 young children and this was a crucial part of picking a venue that was safe and also i knew they could run around with out me watching there every move and I could enjoy the day. This is what made it for me.It's such a magical place and worth every penny and we have so many amazing memories from our day. Thank you to all in loughcrew. Tracey Cullen check out my images from our day on Facebook on brontebouquets or on instagram

As soon as we both visited Loughcrew, we cancelled our other viewings! It's the only venue that we visited because it was the only venue for us. There's a unique spirit and soul to Loughcrew that's embodied by its owner, Emily. We felt so welcome and it was such a privilege for her to share this piece of paradise with us for four days! Writing this now, I wish we could teleport ourselves right back! As we're based in London, organising a DIY wedding wasn't exactly the most practical endeavour but it was worth every bit of it. Love isn't always logical and neither was our 'vision' of an outdoor wedding in Ireland. However, regardless of the extra effort that we were going to have to put in from afar, we owed it to ourselves and this wonderful venue to at least try! We were so fortunate to have the amazingly helpful and obliging Deborah to help us every step of the way. If we ever thought that we had a problem, she always had a solution. She adds to the magic and we couldn't have done it without her and the team. Loughcrew wasn't just a backdrop or a blank canvas for our wedding celebration. It brought all of our hopes and dreams for the perfect weekend to life with its honest quirks and energy. This might sound convoluted but you'll understand when you visit it! Thank you Loughcrew, for making our dreams come true.